Today's European Commission analysis of Member States' draft ten-year plans for climate and energy confirms a big climate fail, according to Friends of the Earth Europe. The EU's 2030 renewables and energy efficiency targets — already insufficient — will be missed if Member States do not improve their plans.
EU Climate Commissioner Canete today renewed calls for the EU to increase its greenhouse gas target from 40% to 45% by 2030 – a level wildly insufficient to limit global warming to 1.5 degrees and meet calls of recent large-scale climate mobilisations. The European Parliament and 18 Member States have called for 55% emissions cuts by 2030.
Draft 'National Energy and Climate Plans' (NECPs) were submitted by every EU government at the turn of the year, and lay out their policies to cut carbon emissions. EU law adopted last year says that by 2030, 32% of all energy consumed should be renewable and overall energy use should be cut by 32.5%. However, the EU Commission finds that their draft plans fall short of these targets.
Esther Bollendorff, climate justice campaigner for Friends of the Earth Europe said:
"The climate emergency we face demands a massive and urgent transformation of our fossil fuelled energy system – but European governments are so far planning a trickle, not a waterfall of action. Recent months have seen a massive uprising of youth and social movements calling for emergency action to go fossil free, but these draft plans represent a big climate fail."
Community energy
Friends of the Earth Europe's own analysis of European governments' draft plans for promoting community renewable energy shows overall a lack of action to foster new EU rights for communities and citizens to produce, sell and store their own renewable energy. Only Greece, Scotland and the Netherlands set best practice for supporting community and citizen energy, leaving much room for improvement in other countries.
Esther Bollendorff continued:
"We see a meager appetite for developing community renewable energy. This is a tremendously wasted opportunity to put energy owned and run by communities at the centre of Europe's fossil-free transformation. However there are some rare champions like Greece, which leads Europe in setting a dedicated target to increase community renewables – whereas countries like Germany, once a pioneer, are lagging behind."
Energy poverty
On energy poverty, the Commission invited Member States to provide more details on measures, and called for Member States with a significant level of energy poverty to define a reduction objective. Only one Member State, Greece, had done so in draft plans.
Clémence Hutin, climate justice campaigner said:
"In a context where a majority of EU countries have an energy poverty problem, governments are failing to kickstart plans to ensure access to energy for all and provide millions with efficient homes while cutting energy consumption."
The plans must now be improved by the end of the year.
Related Content
We think you'd also like:
18/06/19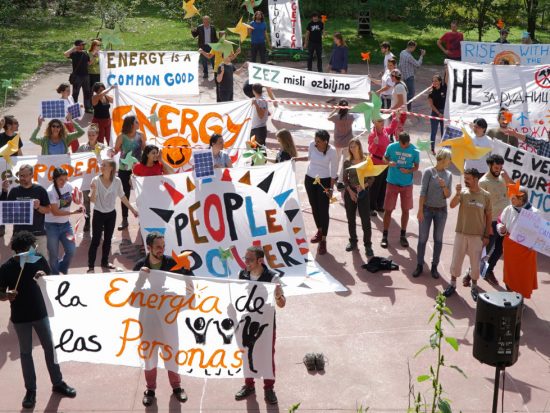 We're tackling climate breakdown by powering the transition away from fossil fuels and towards community-owned renewable energy.