European Parliament takes side of big oil and gas lobby, undermining a fossil-free future.
Members of the European Parliament have voted to continue the support for large scale fossil gas infrastructure across Europe – outraging environment groups who say it will exacerbate the climate emergency.
A majority of MEPs in the energy committee voted for gas projects to continue to receive special legal status, including subsidies. At a time when decision makers should be using the gas price hike as a warning to immediately invest in alternatives, the decision will likely lead to an expansion of Europe's gas network and maintain the stranglehold of the fossil fuel industry on Europe's energy system.
The vote finalised the Parliament's position on the revisions to the rules governing EU energy infrastructure investments – known as the Trans-European Networks for Energy (TEN-E) regulation. Mega gas infrastructure projects will now continue to receive EU priority status, making them eligible for fast-track approval and EU funding.
Eilidh Robb, fossil fuels campaigner at Friends of the Earth Europe said:
"MEPs have failed to stand up against fossil fuel lobbyists, and instead swallowed the gas industry's desperate attempt to cling to public subsidies, status and support. This outcome undermines attempts to build a cleaner energy system. Despite a summer of devastating floods and fires, MEPs are locking Europe into more expensive fossil fuels for years to come."
More fossil gas projects
A majority of the committee voted to go straight into three-way negotiations between the Parliament, European Council, and European Commission, fast-tracking the revision process.
The Parliament's proposal allows fifty or more fossil gas infrastructure projects to be considered for EU priority status as future 'Projects of Common Interest'. Projects include the Baltic Pipe in Denmark, EastMed in Greece and Cyprus, and Shannon LNG in Ireland. Even more fossil gas projects could receive priority status and subsidies if they become hydrogen gas projects by 2029.
Friends of the Earth Europe is demanding that the EU exclude all projects that support fossil fuels, including fossil hydrogen, and that the European fossil gas industry be removed from the decision-making process.
Eilidh Robb continued:
"It will be up to the Commission and Council to resist this green flag to fossil gas and deliver strong legislation to get Europe off gas once and for all."
A petition from Friends of the Earth Europe and other NGOs demanding no EU money for fossil gas received 68,000 signatures from EU citizens. Friends of the Earth Europe demonstrated outside the European Parliament building in Brussels ahead of the vote with a clear message 'Say NO to fossil gas'.

Related Content
We think you'd also like:
28/09/21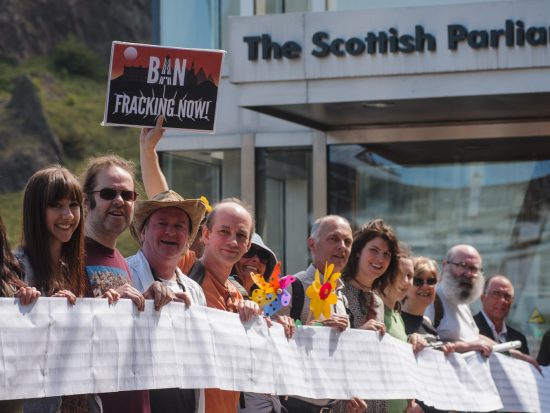 Stopping climate breakdown means keeping all fossil fuels in the ground – including gas. Governments and banks must stop financing gas pipelines and terminals which would lock us into a fossil-fuel future.