Energy crisis action plan to RePower EU offers a 'static jolt' rather than a complete overhaul of the current system.
The European Commission published its action plan on tackling the energy crisis and ensuring affordable, secure and sustainable energy for all. The proposals were delayed to allow new measures to be included in response to the invasion of Ukraine by the Russian regime.
The action plan offers great words but little action. It's essentially an appeal to Member States to accelerate measures already foreseen under the European Green Deal. But what we need is a far-reaching strategy to facilitate a just transition to safe energy that doesn't wreck the climate, according to Friends of the Earth Europe.
Eilidh Robb, anti-fossil fuels campaigner at Friends of the Earth Europe commented:
"Europe's fossil fuel dependency has shown us to be vulnerable to price shocks, supply constraints, and rising energy precarity – now more than ever it is clear that a future free from fossil fuels is safer for people and the planet. Yet, the European Commission still fails to grasp the urgent need to end our dependence on fossil gas, regardless of where it's coming from, and to ramp up ambition on renewables and efficiency in order to secure a genuinely better, safer world for all."
Kieran Pradeep, climate justice and energy campaigner at Friends of the Earth Europe said:
"While this action plan recognises that volatile gas prices will impact vulnerable households the most, further measures are needed to protect vulnerable people, such as an immediate ban on disconnections. It's now up to Member States to go further than the Commission's proposals and provide emergency support to the energy poor by using the eye-watering excess profits the fossil fuel industry raked in this winter. They can't afford to wait on legislation before scaling up investment in renewables, heat pumps, and accelerating renovations of all buildings, targeting the energy poor."
The Commission's proposal recognises the need for short- and long-term measures to alleviate the impact of the energy crisis on citizens and sets out plans on increasing energy efficiency, promising more heat pumps and transitioning to clean energy. It includes removing barriers and fast-tracking renewable energy investments as well as a limited windfall tax. But rather than offering sufficient action to get Europe out of this crisis including investing in the Social Climate Fund and freeing Europe from the fossil fuel industry's grip on its energy supply, it offers little more than a static jolt.
Last week, Friends of the Earth Europe along with 40 other civil society organisations sent an action plan to Commissioner Kadri Simson, that demanded accelerated action to ensure access to clean, affordable energy for all, by radically scaling-up renovations and subsidising renewables. Rather than focusing on diversifying the EU's gas supply, we need to stop all fossil fuel expansion and make fossil fuel companies pay for the precarious, volatile energy market they created. Only then, can we facilitate a just energy transition that works for people and planet.
Related Content
We think you'd also like:
08/03/22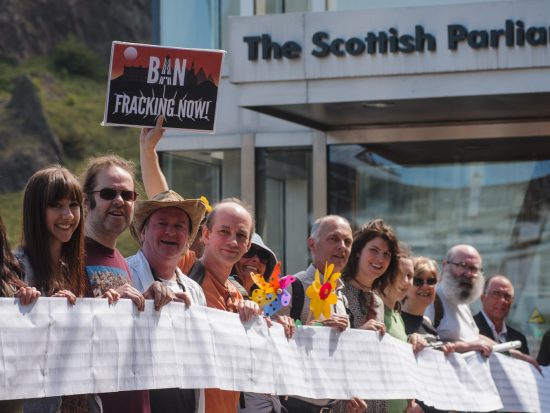 Stopping climate breakdown means keeping all fossil fuels in the ground – including gas. Governments and banks must stop financing gas pipelines and terminals which would lock us into a fossil-fuel future.