14/12/20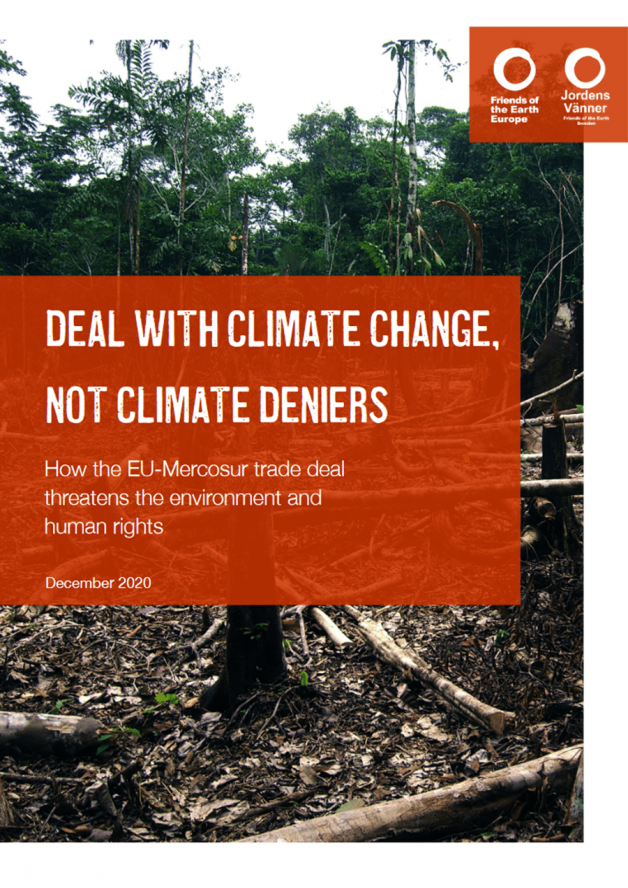 Deal with climate change, not climate deniers: How the EU-Mercosur trade deal threatens the environment and human rights
As fires rage in the Amazon, record-breaking storms wreak havoc in Central America, and young people take to the streets to demand climate action, political leaders should be taking bold action to protect people and the environment.
Instead, a new trade deal is being finalised by the EU and the Mercosur bloc, which includes Brazil, Argentina, Paraguay and Uruguay, to increase the trade of products such as chicken, ethanol, beef, cars or pesticides. This trade agreement aims to boost an export-oriented agricultural model that harms small-scale farmers, indigenous peoples, traditional and rural communities, in Mercosur and EU countries. It threatens to accelerate environmental destruction and the climate crisis, and increase social injustice, corporate impunity, human rights violations, and health risks.
FoE Europe and Jordens Vänner/Friends of the Earth Sweden demand a complete upheaval of EU trade policy, and for the EU to halt this deal and cease renegotiations of similar agreements with countries such as Indonesia, New Zealand, and Australia.
Related Content
We think you'd also like:
The EU is close to finalising a climate-wrecking trade deal with Brazil, Argentina, Paraguay and Uruguay – known collectively as Mercosur. But there's still time to stop it.