18/02/19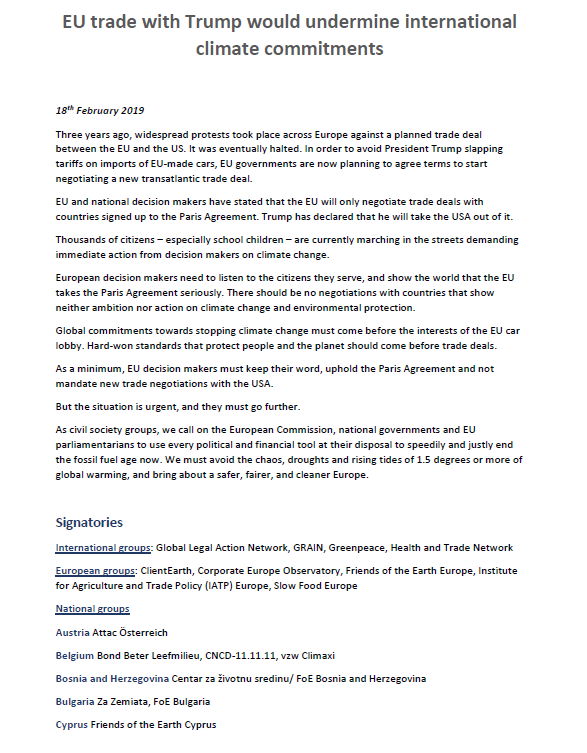 On 21st February, the European Council has decided on the adoption of two mandates to allow the EU Commission to start negotiating a trade deal with the United States. Over 100 global and European civil society groups demand EU Member States to reject this deal as it endangers the climate and is not in line with the Paris agreement.
In disregard for the European Parliament opposition to such negotiations and in a complete U-turn from past discourse on the Paris agreement, EU Member States seem united towards a green light on EU-US trade negotiations.
President Macron announced at the United Nations General Assembly in September 2018 not to sign a trade deal with a country which does not respect the Paris global climate agreement. This was echoed by Trade Commissioner Malmström. But measures to increase imports of soy for biodiesel and LNG from the US are already undermining the EU's climate commitments.
Lora Verheecke, trade campaigner at Friends of the Earth Europe said:
 "The EU claims that its new trade policies are progressive and sustainable. However, like with TTIP, commercial profits are prioritised over the public interest. Promises and ambitions to protect climate and environment are betrayed – the result is just Business as Usual."
In this public letter, several international, European and national organisations demand EU decision makers to uphold the Paris agreement and pause trade negotiations with the US until it re-commits to the global endeavour to curb climate change.
Related Content