02/06/22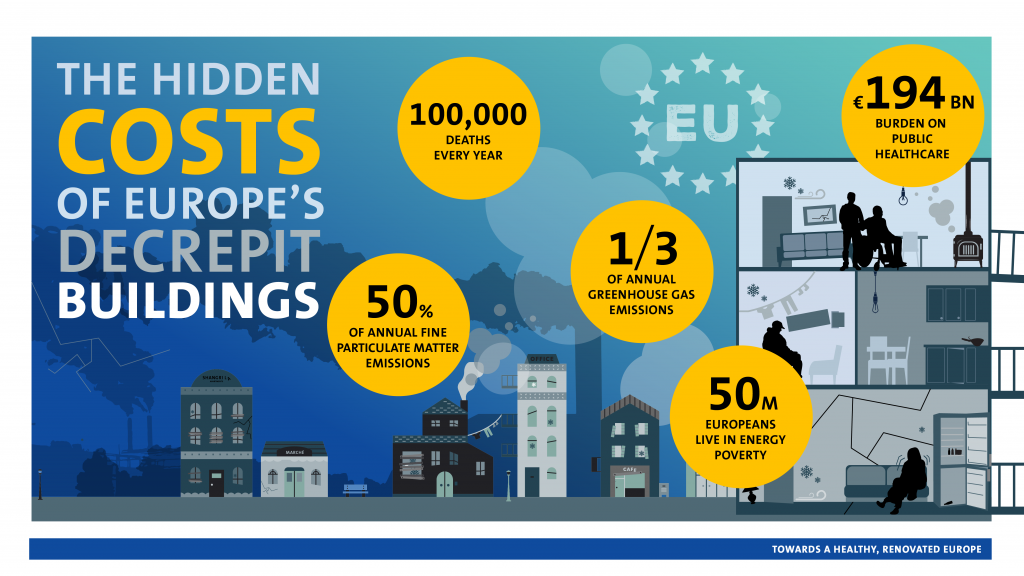 It has never been clearer: Now is the time to deliver subsidised renovation and renewable programmes across Europe. This is a no regret solution to cut our energy bills, end our fossil fuel addiction and slash our energy consumption to stay below 1.5 degrees warming and tackle energy poverty. Fossil free homes are crucial step in eliminating energy poverty and staying under 1.5 degrees of warming.
Decrepit, leaky and unsafe homes are the 'sleeping giants' of our climate crisis. 75% of EU buildings are deemed inefficient contributing to over 40% of our energy consumption. Moreover, inefficient housing is a systemic root cause of energy poverty; with a harrowing 50 million Europeans living in energy poverty unable to adequately light, heat or cool their homes and over 20% of poor households in the EU live in a dwelling that has mould, damp or rot.
The damage done by our damp & leaky housing is often obscured behind closed doors; but the social cost is severe. Inefficient homes and fossil fuel infrastructure fuel mental and physical illnesses, contributing to an extortionate public health burden of over € 194 billion in the EU, with over 100,000 premature deaths linked to inefficient housing every year. Furthermore an estimated €99 billion would be saved in direct and indirect health costs by 2050 with action to remedy our homes.
Those who are already marginalised are often living in the worst housing conditions, such as people of colour, female-led households and the elderly. These households are also locked into fossil fuel infrastructure with volatile prices, blocked from accessing renewable solutions and left without access to the energy transition. With such significant social costs, the question should not be whether we can afford to renovate and decarbonise our building stock- but can we afford not to? The message is clear: swift and substantial action to kickstart subsidised renovation and renewable programmes across Europe is an act of climate justice. We must provide healthy, decent housing powered by renewable energy this decade.
The briefing below provides Friends of the Earth Europe's recommendations to use this crucial moment and make the Energy Performance of Buildings Directive (EPBD) work for people and planet.
Related Content