Report exposes how public money is used to fund destructive gas projects in northern Mozambique
A new report by Friends of the Earth groups and partners in Mozambique reveals how rich European countries ignored and underestimated the risky business of managing gas projects in Mozambique, despite warnings from the local civil society.
Countries including France, the Netherlands, Italy, the UK and the US pledged a combined total of €15 billion in public support for destructive gas projects in Mozambique, which exacerbate the climate crisis, force people to relocate, and increase violence and human rights violations, via Export Credit Agencies (ECA).
ECAs enable companies to operate abroad by ensuring their risks are covered by the public funds of rich countries, prioritising the financial interests of companies over the interests and rights of the local population and tackling the climate crisis. The Mozambican gas projects couldn't have materialised without these funds, considering the country has been struggling with mounting debts, corruption, and outbreaks of violence for years.
The current situation in Mozambique, a decade after they first discovered the gas fields, is devastating. Nearly a million people have fled and thousands have died. Girls and women have fallen victim to extreme sexual violence. In March last year, TotalEnergies ended their gas project because of this, putting the largest project to a halt, and stopped compensating local citizens who lost their homes and jobs because of the project.
Anabela Lemos, Director of Justiça Ambiental said:
"Ten years after discovering the gas, the industry has left thousands of people displaced and without livelihoods, ruined the environment and fuelled a 5-year old conflict that has turned nearly one million people into refugees, and left thousands of innocent people dead.

The industry and its historical power dynamics has pushed Mozambique into an even deeper hole of debt. None of this gas has even been extracted yet. If it has managed to create this much suffering already, it is terrifying to imagine what is yet to come"
The study also reveals the environmental and climate damage these projects cause to a country that's already vulnerable to climate change and struggling with the severe impacts of weather extremes. Whilst causing significant harm to the country and potentially increasing its greenhouse gas emissions by 14%, the project also jeopardises the climate ambitions of some of the supporting countries, which have pledged to stop funding fossil fuel projects abroad by the end of 2022 and limiting global warming to 1.5 percent. This has already led to a court case in the UK in March 2022, in which a judge concluded that the British ECA support was indeed in breach of the Paris Agreement — a final ruling will follow later this year.
Paul de Clerck, Economic justice coordinator at Friends of the Earth Europe said:
"It's outrageous that our governments continue to finance climate-wrecking gas projects in countries in the Global South, like Mozambique. They're enabling EU companies such as Total and ENI to carry on creating environmental and humanitarian catastrophes across the world with impunity. This crisis exemplifies the need for a strong EU law to hold companies accountable and allow affected people, like Mozambicans surviving on humanitarian aid in refugee camps, to take them to court in the EU".
The report also underlines the urgent need for laws to hold companies accountable for human rights violations and environmental and climate harms. The EU's recent draft proposal for a due diligence law needs to be strengthened to obligate companies to cease activities that are not in line with the Paris Agreement and to ensure that people whose rights are violated can take corporations to court in the EU.
On 19-20 May Ilham Rawoot from Friends of the Earth Mozambique will be in Brussels to talk about the findings in the report ¨Fuelling the Crisis in Mozambique: How Export Credit Agencies Contribute to Climate Change and Humanitarian Disaster¨. You'll find details about the event on our Facebook page.
---
Related Content
We think you'd also like:
16/05/22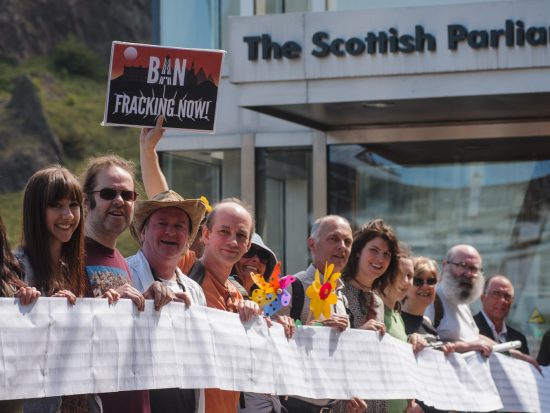 Stopping climate breakdown means keeping all fossil fuels in the ground – including gas. Governments and banks must stop financing gas pipelines and terminals which would lock us into a fossil-fuel future.