The EU is failing to phase-out fossil fuels and to provide deep renovations for Europe's energy poor fast enough, Friends of the Earth Europe said today, as new proposals aimed at reducing climate emissions were released in Brussels.
The EU Commission unveiled a number of initiatives covering the energy sector and buildings. The proposals are the final installment of the so-called 'Fit for 55' package of legislation designed to deliver 55% emissions reductions by 2030, tackle energy poverty and ultimately make Europe the "first carbon neutral continent by 2050".
But, as energy prices soar and the climate crisis intensifies, the current proposals are a far cry from delivering Europe's fair share of emissions cuts to limit temperature increases to below 1.5 degrees. Nor do they go far enough to help millions least able to afford the price of Europe's fossil fuel addiction, said Friends of the Earth Europe in response to the new plans.
Without a rapid fossil gas phase out, Europe will be unable to sufficiently limit temperature rises and will be locked into volatile fossil energy prices that exacerbate energy poverty. But, the Commission's proposals fail to move Europe beyond gas.
Commenting on the 'Gas Package', Eilidh Robb, fossil fuels campaigner for Friends of the Earth Europe said:
"The excessive influence of the fossil fuel industry has brought us to the brink of climate breakdown, yet these latest proposals continue to facilitate the privileged position of the gas industry. It's time to burst the gas bubble and free Europe from the stranglehold of fossil fuels – but we will need much sharper instruments than the blunt measures put forward today."
The proposal fails to deliver the necessary phase out of fossil gas by 2030, and makes no effort to plan a just process for the decommissioning of infrastructure. Instead, it further enshrines fossil gas into Europe's energy future through planning for a mass-hydrogen rollout which means the gas industry can continue to inflate the demand for hydrogen to justify the continued use of gas to power it.
The Commission's proposals to reduce methane emissions similarly miss the mark by failing to acknowledge the need for a gas phase out, failing to apply methane reduction requirements across the full supply chain, and placing too much emphasis on the role of industry in reporting methane data.
Commenting on the 'Energy Performance in Buildings Directive', Martha Myers, climate justice campaigner at Friends of the Earth Europe said:
"As we face a 'winter of disconnections', now was the moment for the European Commission to show solidarity with Europeans left at the peril of the volatile gas market – this is a start but more will be needed to tackle the scandal of energy poverty in Europe.

"Minimum energy performance standards are a welcome step to prioritise our most indecent housing, but these standards alone will not be enough. The Commission has begun to address social aspects of the Renovation Wave, however there is still a long way to go to deliver the substantial social measures and financial support that are needed to deliver deep renovations to those that need them most."
It had been hoped the Commission would deliver on its 'Renovation Wave' pledge to tackle energy poverty and renovate over 35 million homes. It proposed minimum energy performance standards which Friends of the Earth Europe welcomed as a significant step forward to kickstart renovations of Europe's indecent and unhealthy housing. But the group criticised some major loopholes including a disappointing standard for 'deep' renovations and a lack of consideration of tailored social support.
Current proposals call for the worst performing buildings to be renovated to energy performance standard E by 2033. This may mean in some member states, vulnerable households receive little more than LED light bulbs to nudge them out of the worst performing housing bracket, nowhere near enough to improve their living conditions or slash their energy bills.
Decarbonisation of heating and cooling has fallen short, still leaving years of further fossil fuel subsidies and failing to deal the 'knock out blow' to fossil fuels in existing homes before 2040. This risks a fossil fuel lock in for energy poor households, left to pay the carbon price for the energy transition as higher income households transition to renewables in the next decade.
Related Content
We think you'd also like:
15/12/21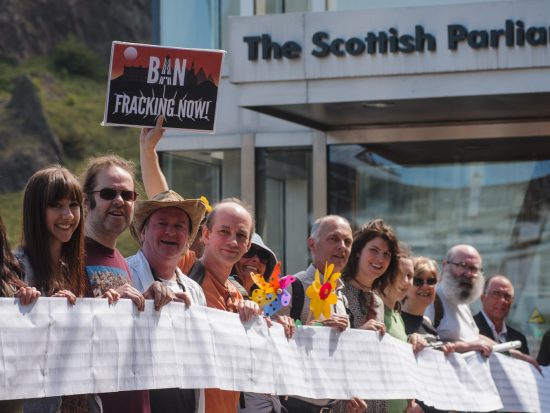 Stopping climate breakdown means keeping all fossil fuels in the ground – including gas. Governments and banks must stop financing gas pipelines and terminals which would lock us into a fossil-fuel future.