How gas fuels energy poverty and climate change
'Cheap, practical, green'… That crisp blue flame… The gas industry has used every trick in the book to sell itself as Europe's energy source of choice.
But as the pressure mounts to phase out fossil fuels, the gas industry has revamped its marketing, presenting fossil gas boilers as an answer to energy poverty. In fact, the gas industry is instrumentalising energy poor households as part of its PR strategy to defend its interests and block policy proposals to move beyond gas and deliver fossil free homes.
But the facts are clear. Gas is not only dangerous for the climate, it is keeping households locked into energy poverty this winter.
GAS IS VOLATILE AND EXPENSIVE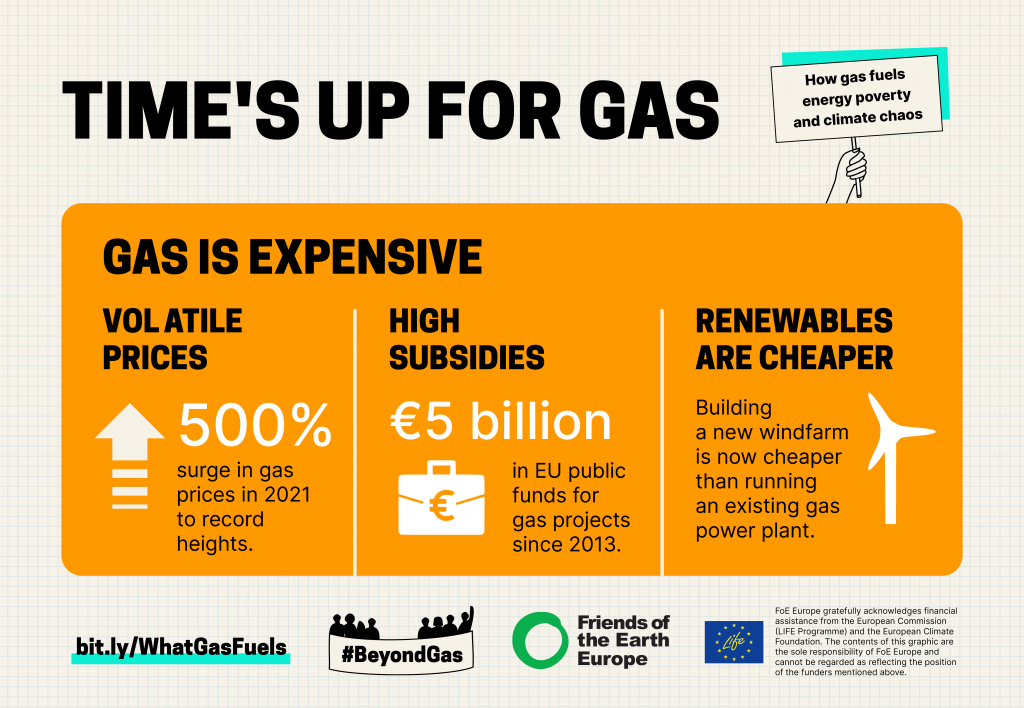 VOLATILE PRICES: Gas prices have been surging to record heights, with an increase of 500% in a year. Before the energy crisis, the price of gas for European households had been steadily increasing for a decade already (+20% since 2008) whilst electricity decreased in cost (Eurostat: Natural gas prices for households consumers, EU27, 2008-2020). Gas is a volatile and expensive energy source.
HIGH SUBSIDIES: Gas is heavily subsidised by taxpayers: a recent study revealed that the EU (alone) granted more than 5 billion euros in taxpayers' money to gas projects. It's not just infrastructure: gas appliances are also highly subsidised by member states. At least 19 EU countries continue to subsidise new gas boilers (up to 2,500 euros per household!) instead of supporting safer, cleaner, and more efficient solutions like heat pumps.
RENEWABLES ARE CHEAPER: Even before the surge in gas prices, building a new wind-farm was already cheaper than running an existing gas power plant — and gas will become comparatively more expensive as the cost of renewables continue to decrease.
GAS FUELS INEQUALITY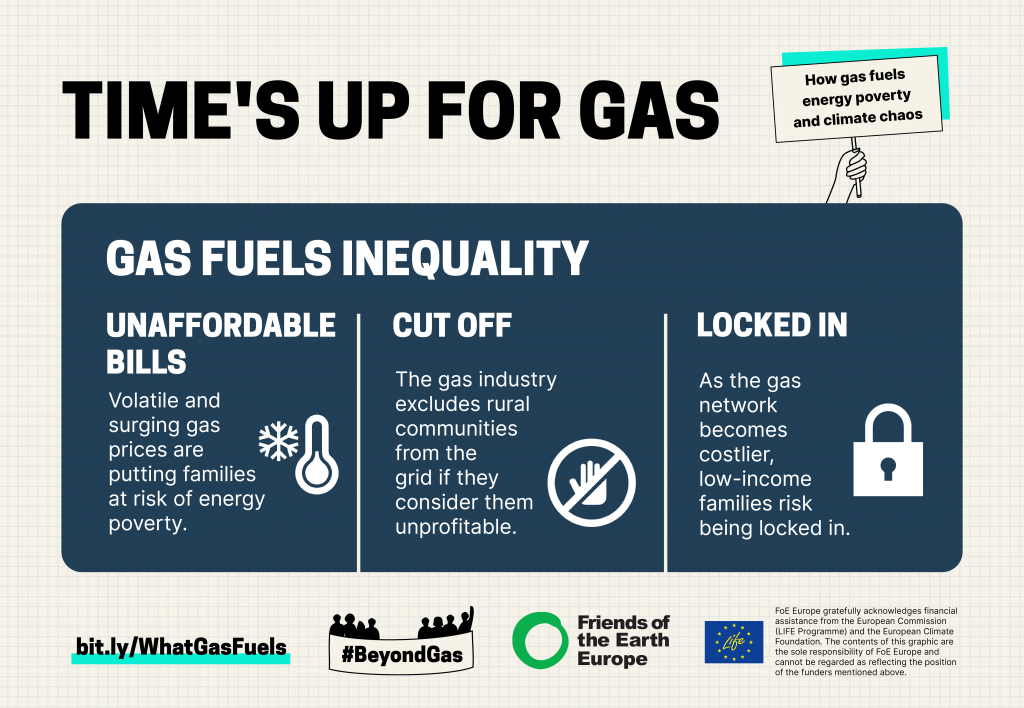 UNAFFORDABLE BILLS: Changes in weather, technical accidents and geopolitics make gas an unreliable, costly energy source, exposing households to volatile heating and electricity bills. Soaring gas prices are tipping millions more people over the brink this winter, living in the cold, damp, and dark – damaging health and dignity. But 50 million Europeans were already living in energy poverty before the crisis, according to a 2018 publication. Recent estimates of 2021 indicate a staggering 80 million European households were unable to sufficiently light, heat or cool their homes. In the UK, the increase in bills due to the current energy crisis could push up to 1.5 million households into energy poverty this winter.
CUT OFF: The gas industry can't be relied on to reach marginalised communities, despite decision-makers eagerness to see gas as a one-size fits all solution. Studies show rural areas are often excluded from the grid, as they are considered unprofitable by the gas industry. This forces households to opt for more expensive, readily available solutions like heating oil, which drives regional inequalities. Another reason for why we need renewables that provide clean and affordable solutions for everyone.
LOCKED OUT: There is a huge risk here for a Just energy transition. As higher income households switch to cleaner electric heating, the proposed Emissions Trading Scheme to buildings and transport would mean poorer households, without the financial support to end their dependency on fossil fuels, will literally be left to pay the price for our energy transition.
GAS IS DANGEROUS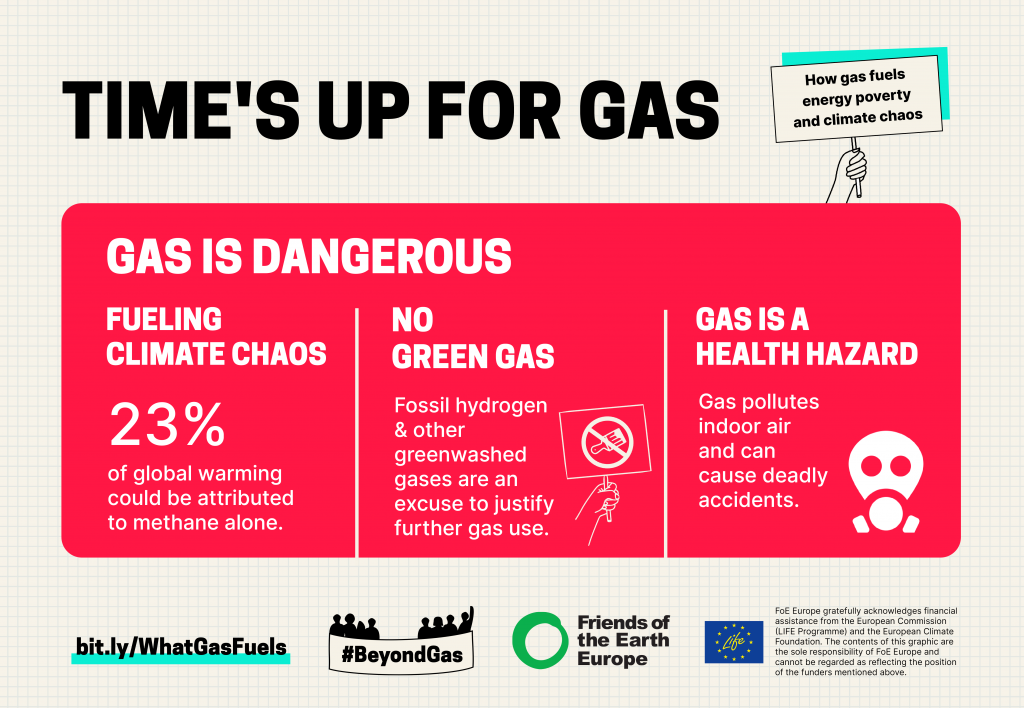 FUELING CLIMATE CHAOS: As a fossil fuel, gas is a major emitter of carbon dioxide and driver of climate breakdown. The gas industry is leaking large amounts of methane into the atmosphere — at almost every step in the supply chain — further heating the climate. Methane leakage, when properly accounted for, makes natural gas as bad as coal. Globally, the rise in methane emissions (including from the energy sector) could be responsible for a 0.6°C rise in global temperatures by 2050, taking us even further from a safe, liveable future. Keeping to a 1.5°C threshold requires phasing out fossil gas as quickly as possible.
NO GREENWASHED GAS: To justify building new pipelines and gas infrastructure, the gas industry is greenwashing gases like hydrogen as possible "clean" replacements for fossil gas. Hydrogen is not clean: renewable hydrogen makes up less than 0.1% of hydrogen produced in the EU. It's also very inefficient: heat pumps produce heat 6 times more efficiently than hydrogen boilers. Adapting the gas network would also be hugely costly: research estimates it could triple the total cost of heating. Other so-called green gases such as biogas should be used sparingly, as they contribute to climate change.
GAS IS A HEALTH HAZARD: Gas appliances expose households to many dangerous indoor pollutants that can cause asthma and other respiratory illnesses. Gas stoves can make indoor air up to 5 times more polluted than outdoor air — while gas heaters are still more dangerous. Gas accidents can also be deadly: in 2019 alone, gas caused 153 accidents in Italy, killing 23 and injuring 308.
HEAT OUR HOMES, NOT THE CLIMATE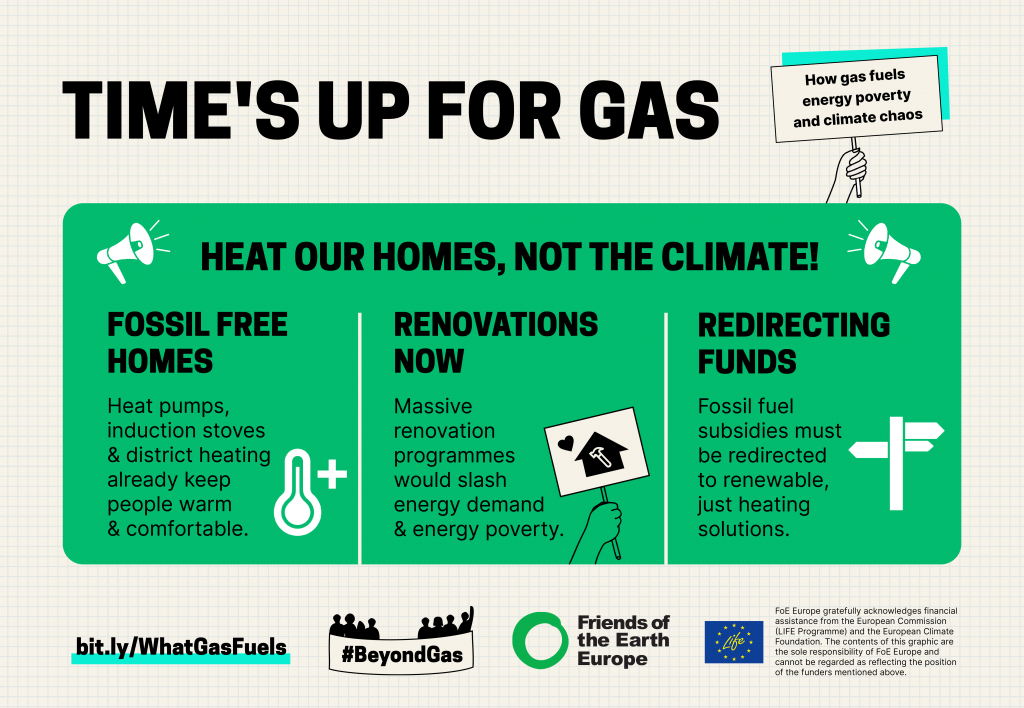 Gas is not the answer to energy poverty. What we need is:
FOSSIL FREE HOMES: Clean, affordable alternatives to decarbonise homes already exist: heat pumps, induction cookers, district heating are already keeping people warm and comfortable without the need for gas or other fossil fuels. The revision of the Energy Performance of Buildings directive (EPBD) is an opportunity for bold policy proposals, including phasing out gas boilers in new buildings by 2025 and in existing buildings by 2030.
RENOVATIONS NOW: Massive deep renovation programmes are crucial to slash our energy consumption and energy poverty at once, providing everyone with a warm home without burning needless energy. Minimum Energy Performance Standards in the residential sector with social safeguards are a crucial policy tool to achieve this.
REDIRECTING SUBSIDIES: For climate and social justice, public money must fund solutions rather than add fuel to the fire. Fossil subsidies must be phased out, and replaced by funding for building retrofits and sustainable heating. The Social Climate Fund must also have substantial funding to address any upfront costs for a just energy transition.
Millions in Europe live in energy poverty. To tackle both climate and social emergencies, urgent action is needed to provide all households with decent housing and affordable, clean energy.
Gas is expensive, unreliable, and dangerous. Europe's dependence on gas is keeping people locked into fuel poverty and in the cold this winter. It's time to move beyond gas.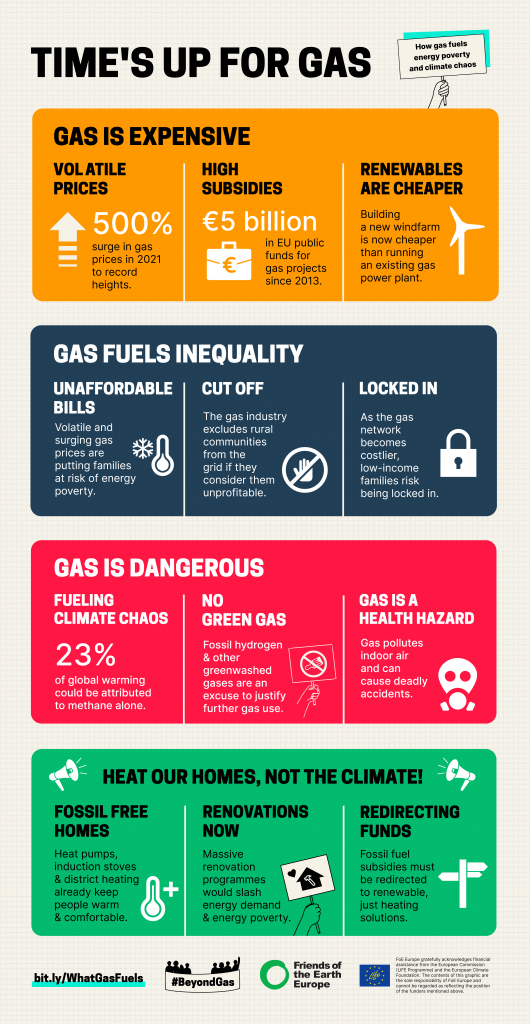 ---
Related Content
We think you'd also like:
09/12/21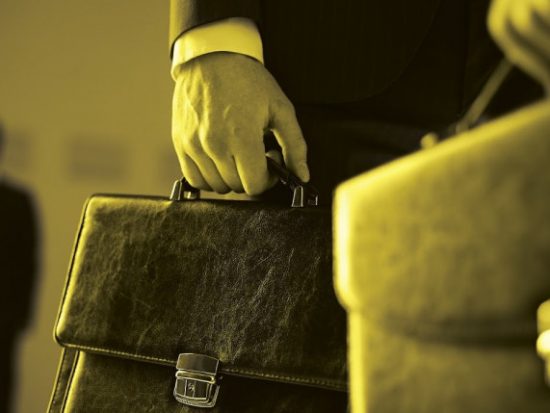 The European Green Deal has the potential to transform Europe's economy to help fix the climate and ecological crises, and support workers in the transition. But it is in danger of being too little, too late.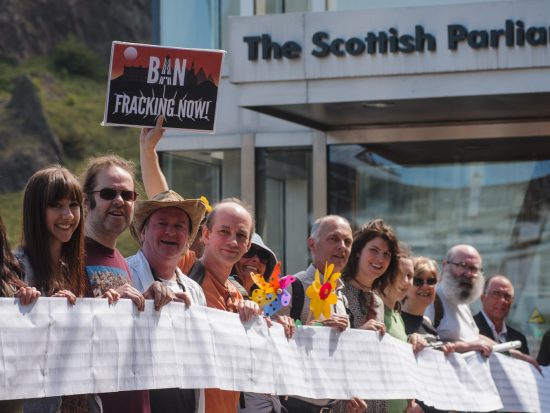 Stopping climate breakdown means keeping all fossil fuels in the ground – including gas. Governments and banks must stop financing gas pipelines and terminals which would lock us into a fossil-fuel future.