An official cost-benefit study of the proposed 'MidCat' gas pipeline connecting France and Spain, prepared for the European Commission, has poured scorn on the controversial fossil fuel project. The leaked study shows that the €3 billion project, which has been prioritised for EU support by EU Climate Commissioner Miguel Arias Cañete in the EU's list of 'Projects of Common Interest' (PCI list), would not be financially viable under most scenarios.
It confirms Friends of the Earth Europe's criticisms of the PCI list – that it contains several climate-damaging gas projects that have limited viability. And it casts doubt over all the other prioritised gas projects. Friends of the Earth is demanding an urgent phase out of fossil fuels.
Antoine Simon, Fossil Free campaigner for Friends of the Earth Europe reacted:
"Gas is a dangerous fossil fuel which emits significant amounts of greenhouse gases. By pouring billions of public money into new fossil gas infrastructure, Europe flouts our climate responsibilities.

"This leaked study shows that the new gas pipeline between France and Spain would waste taxpayers' money, lead to higher prices for consumers, would not increase energy security, and would barely even be used. EU climate commissioner Cañete has thrown his weight behind this dubious pipeline and a hundred others like it on an EU list of priority energy projects: he should strike them all from the list and invest in a safer, cleaner fossil-free Europe."
A safe climate
The massive amounts of greenhouse gases yearly emitted by the fossil fuel industry – oil, coal and gas – is the biggest driver of global climate change. Europe absolutely needs to rapidly phase out all fossil fuels as quickly as possible to have a chance of minimizing global temperature rises below 1.5°C or 2°C, as world leaders have committed. A study for Friends of the Earth Europe recently proved that gas is not a 'bridge fuel' and damages the climate. Europe risks tipping global warming over 2°C if we do not completely cease consuming fossil fuels, including gas, by 2035. There is therefore no room to allow gas to expand as a clean or transition fuel.
New gas development
Despite this, licenses are still being given out to expand fossil fuel extraction and build new fossil fuel infrastructure. EU leaders like to present themselves as champions of climate change, but are continuing to support new fossil fuel projects. This latest incarnation of the PCI list is one example.
Allegedly this list of priority energy infrastructure projects contributes to sustainable and low carbon development. Yet in reality, it includes more than a hundred new gas projects across continent. These will last at least 40 years – and contribute to Europe's fossil fuel addiction. Though there were some noble objections to the list in the European Parliament, thanks to the advocacy of environmental NGOs and local activists. But the European Commission has persevered, justifying its support for new gas infrastructure on the basis of promoting energy security.
25% of the @Europarl_EN voted against the #PCIList and its 100+ climate-wrecked #gas projects. Very 1st objection to the list and the message is clear: opposition to gas can't be ignored & will keep growing in and outside Brussels. #NoRoomForGas pic.twitter.com/tiBf7zBnFt

— Antoine Simon (FoEE) (@FoEE_Antoine) March 14, 2018
Energy (in)security
EU officials argue that additional gas pipelines, interconnectors and gas terminals would better connect European countries, diversify Europe's gas supplies, reduce gas prices, and increase Europe's resilience to gas interruptions. Yet this new study for the European Commission, kept secret until now, seriously debunks this argument.
The MidCat gas pipeline is one of the most renowned gas projects on the PCI list, having received backing from Climate Commissioner Cañete, and €7.5 million (so far) of EU taxpayer subsidies. Yet the study concludes that, according to most scenarios, the project does not respond to any real need, would not improve energy security for Spain or France, and would increase gas bills for French consumers. If built, MidCat could become a stranded asset in just 10 years.
Cécile Marchand, campaigner for Friends of the Earth France reacted:
"It's not surprising that we haven't been able to see this study, which clearly shows the project is not economically viable, has no benefit for security of supply for either Spain or France, and could even raise gas tariffs in France. It's high time to put a stop to the project."
If such a high profile political project turns out to be so dubious, this casts serious doubt on the other gas projects on the list, which Friends of the Earth Europe has highlighted. It begs the question, why are we wasting our scarce resources on unnecessary gas projects that would lock us in a dangerous new fossil fuel cycle that neither we nor the climate can afford?
Related Content
We think you'd also like:
24/04/18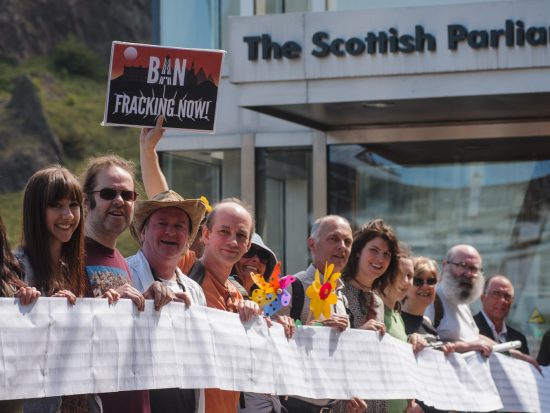 Stopping climate breakdown means keeping all fossil fuels in the ground – including gas. Governments and banks must stop financing gas pipelines and terminals which would lock us into a fossil-fuel future.