Stop the Energy Charter Treaty!
It's the biggest climate action killer nobody has ever heard of.
The Energy Charter Treaty (ECT) is a major obstacle to fast and effective action on the climate and environmental crisis. Our transformation to a green and fair society will become harder, slower and more expensive if we don't stop the Energy Charter Treaty.
The ECT-Rex represents the Energy Charter Treaty, a treaty that, like the dinosaurs, belongs to the past. This obscure treaty from the 1990s grants sweeping rights and protections to big energy investors – mainly fossil fuel companies. The fossil fuel industry is using it to sue governments and sabotage the energy transition. Not before normal courts with judges. But in secret tribunals, settled by commercial arbiters who have an incentive to favour corporations.
More and more, the deal is being used to attack government policies that might negatively impact fossil fuel corporations' profits. Policies like phasing out dirty energy or shutting fossil fuel plants. In Europe alone €350 billion euros worth of oil, gas and coal projects are protected under this treaty.
Bold climate action, environmental protection and just transition policies have never been more urgent. But the Energy Charter Treaty risks delaying action and making it more costly.
In spring 2022, as the EU and its Member States were negotiating, behind closed doors, a doomed-to-fail reform proposal, a gigantic dinosaur embarked on a journey across Europe. Why? To protect fossil fuel companies, allow them to claim billions of public money and spread fear among decision makers seeking to implement climate action now. But people power defeated this monster from the past, wherever it went! Many European countries, including France, Germany and the Netherlands, have now decided to withdraw from the dirty Treaty, supported by the European Parliament.
Relive the ECT-Rex tour on our Twitter Moment.
Take action to end the climate-killer treaty
ADD YOUR NAME
This action is supported by a broad coalition of civil society organisations from across Europe, including Avaaz, Campact, WeMove, Climate Action Network (CAN) Europe, the Transnational Institute (TNI), Umweltinstitut München, PowerShift, Collectiv Stop TAFTA, Attac Austria and many more.
It sounds like a bad joke
Contact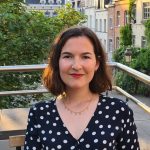 Julie Zalcman
Trade campaigner
julie.zalcman[at]foeeurope.org