Food and farming

Food sovereignty now! Small-scale farming, in harmony with nature, where farmers and farmworkers are fairly paid. This is the future we need to feed our societies, and prevent ecological collapse, and build vibrant rural economies.
Farming in Europe is increasingly dominated by monocultures and factory farms. These industrial forms of agriculture heat the planet, destroy nature and rural communities, and depend on the exploitation of workers.
Every year, small farms close as larger ones squeeze them out. Crops are grown for export instead of feeding local communities.
These are symptoms of the power of a handful of agribusiness corporations and investors over our food system, which is reinforced by policies including the EU's Common Agricultural Policy (CAP).
Europe also consumes far more than its fair share of global agricultural products, putting huge strain on communities and the environment in the Global South.
However, a movement is growing, demanding local communities and small-scale farmers be given the power and resources to produce and distribute food sustainably – what is known as food sovereignty.
Food is a right, not a commodity.
Contact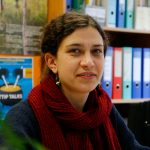 Stanka Becheva
Food & farming campaigner
stanka.becheva[at]foeeurope.org