21/05/21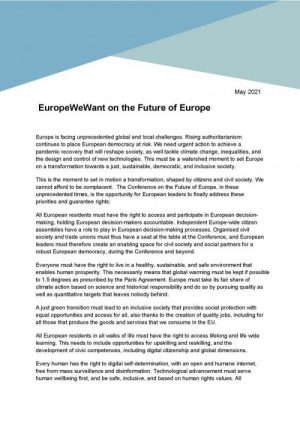 Europe is facing unprecedented global and local challenges. We need urgent action to achieve a pandemic recovery that will reshape society, as well as tackle climate change, inequalities, and the design and control of new technologies. This must be a watershed moment to set Europe on a transformation towards a just, sustainable, democratic, and inclusive society. 
This is the moment to set in motion a transformation, shaped by citizens and civil society. We cannot afford to be complacent. The Conference on the Future of Europe, in these unprecedented times, is the opportunity for European leaders to finally address these priorities and guarantee rights.
We are proud to sign this statement with other civil society calling for the #EuropeWeWant that cares for all and shaping a vision on the Future of Europe.
Related Content