How the EU-US trade deal risks expanding fracking in Europe and the US
A trade deal between the EU and the US risks opening the backdoor for the expansion of fracking in Europe and the US, reveals a new report released today [1]. As part of the deal currently being negotiated, energy companies could be allowed to take governments to private arbitrators if they attempt to regulate or ban fracking and the dangerous exploitation of unconventional fossil fuels. Campaigners are urging the EU not to include such rights in trade deals.
The fourth round of trade negotiations on the Transatlantic Trade and Investment Partnership between the EU and the US takes place next week in Brussels (March 10-14). If agreed, a clause in the deal, known as the 'investor-state dispute settlement' mechanism (ISDS), could give special rights to companies to claim damages in private investor friendly arbitrators if they deem their investments (including future profits) are adversely affected by changes in regulation or policy.
Such a clause would make it much harder for countries to ban or impose strong regulations on fracking for shale gas and other unconventional fossil fuels, for fear of having to pay millions in compensation. This would be regardless of the evidence of the environmental harm caused by fracking, and of the opposition by local residents and other citizens. More broadly, the ISDS clause would likely thwart governments' efforts to address global warming and reduce dependency on fossil fuels, the report states.
Antoine Simon, shale gas campaigner for Friends of the Earth Europe said: "Giving companies more rights as part of the EU-US trade deal would undermine Europe's growing resistance to fracking. Energy companies must not be given the power to challenge democratically agreed laws that safeguard the environment and citizen health. Put simply, this puts profits before people, democracy and the planet."
Many European member states are currently assessing the environmental and public health risks of shale gas, and other unconventional gas and oil. Widespread community resistance on both sides of the Atlantic has led to many countries and regions placing moratoria, bans, or strong environmental regulations on fracking [2].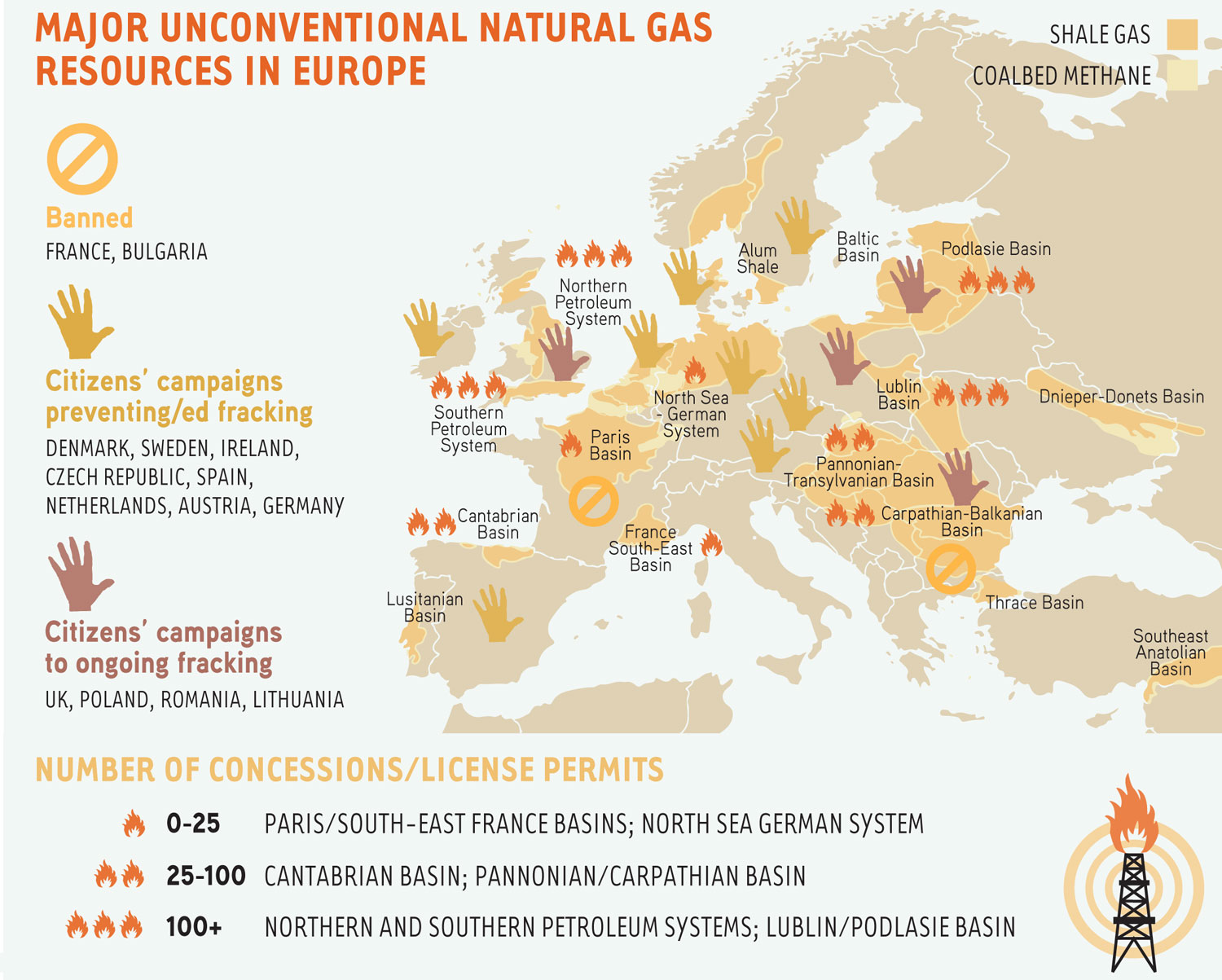 Under similar trade deals, special investor rights have already been used by companies to challenge regulations that protect communities and the environment. Under the North American Free Trade Agreement (NAFTA) between the US, Canada and Mexico, US energy firm Lone Pine Resources is suing Canada for $CAD 250 million, after the province of Québec introduced a moratorium on fracking.
Ilana Solomon, director of the responsible trade programme at Sierra Club, the largest grassroots environmental organisation in the US, said: "Trade should help strengthen economies while protecting families and communities – it should never put them at risk. The egregious Lone Pine lawsuit shows how investor-state dispute settlement threatens people and our environment by letting big corporations attack common-sense policies. We need protections from dangerous practices like fracking, and big oil and gas corporations shouldn't use trade as the trump card to get their way."
In the EU, growing controversy around the EU-US trade talks has forced the European Commission to temporarily halt the negotiations on the investor rights chapter and announce a public consultation on the issue expected to start this month. But, the Commission has already indicated that it does not want to abandon controversial corporate rights, but rather reform them. The proposed trade deal between the EU and Canada, which is almost finalised, also foresees the inclusion of such rights for companies. Inclusion in the EU-US deal would give the mechanism unprecedented reach, according to trade campaigners.
Pia Eberhardt, corporate campaigner for Corporate Europe Observatory said: "Investor state attacks such as Lone Pine's challenge of a fracking moratorium in Canada shows what investor-state dispute settlement is all about. It's a power grab from corporations – to rein in democracy and policies to protect people and the planet. This system cannot be tamed – it must be abandoned."
A broad spectrum of concerned campaign organisations, in Europe and the US, are urging the EU and the US not to include the contentious ISDS system in trade deals, including the near-completed EU-Canada deal.
—
NOTES:
[1]
'No fracking way – how the EU-US trade agreement risks expanding fracking'
was released today by Friends of the Earth Europe,
Corporate Europe Observatory
,
Transnational Institute
, Powershift, the
Blue Planet Project
and the
Sierra Club
. [2] In February 2013, some 400 European grassroots organisations published a letter to express their opposition to the extraction of unconventional fossil fuels through harmful techniques such as fracking,
http://www.foeeurope.org/shale_gas_framework_220114
.
Currently France and Bulgaria have fracking bans; several other countries including Germany, Ireland, Denmark and Czech Republic, have temporarily stopped developments with fracking moratorium; Austria and Lithuania have tightened regulations; and fracking development in Spain and Netherlands is on hold due to significant public opposition.
Fracking bans exist in the states of Vermont, New Jersey, New York, municipalities in Colorado, Texas, Ohio, Pennsylvania and North Carolina.
Related Content
28/02/14