The government of Norway has doomed another of their world famous fjords to destruction by allowing the dumping of toxic waste from a copper mine into the Repparfjord Arctic fjord, reports Naturvernforbundet/Friends of the Earth Norway.
Two million tons of the mining waste, containing large amounts of heavy metals, will annually be deposited in spawning waters of cod and other fish stocks important to coastal fisheries in the far north of Norway. Small particles spreading in the water column could also harm the threatened Atlantic salmon in what has been classified as a 'National Salmon Fjord'.
Lars Haltbrekken, leader of Friends of the Earth Norway, said:
"It is totally unacceptable to use Norwegian fjords as a dump site for the mining industry. Emissions from the copper mine will breach the limits for heavy metals, and in this cocktail of contaminants, the nickel content is alone enough to give poor chemical status in the fjord."
The discharge permit is contrary to national and international environmental legislation regarding water management, and Friends of the Earth Norway will appeal to the Surveillance Authority of the European Free Trade Association (the intergovernmental organisation of Iceland, Liechtenstein, Norway and Switzerland), claiming that Norway is violating the European Water Framework Directive.
Friends of the Earth Norway believes the Norwegian Environment Agency has abandoned the role of professional environmental administrative body in mining matters.
Lars Haltbrekken said:
"For the Norwegian Environment Agency to give the green light for one of the most environmentally harmful industrial projects in Norwegian history, despite professional advice and warnings, is not environmental management. It is promoting a dirty industrial policy based only on uncertain assumptions about future revenues".

Most countries have stopped the practice of dumping of mine waste into the sea, and today, Norway is the only country left that still practices sea dumping in Europe. Marine scientists, environmental organizations, fishermen and reindeer herders of the Sami people have also raised concerns about the plans.
Infographic from Naturvernforbundet/Friends of the Earth Norway (for sharing on social media):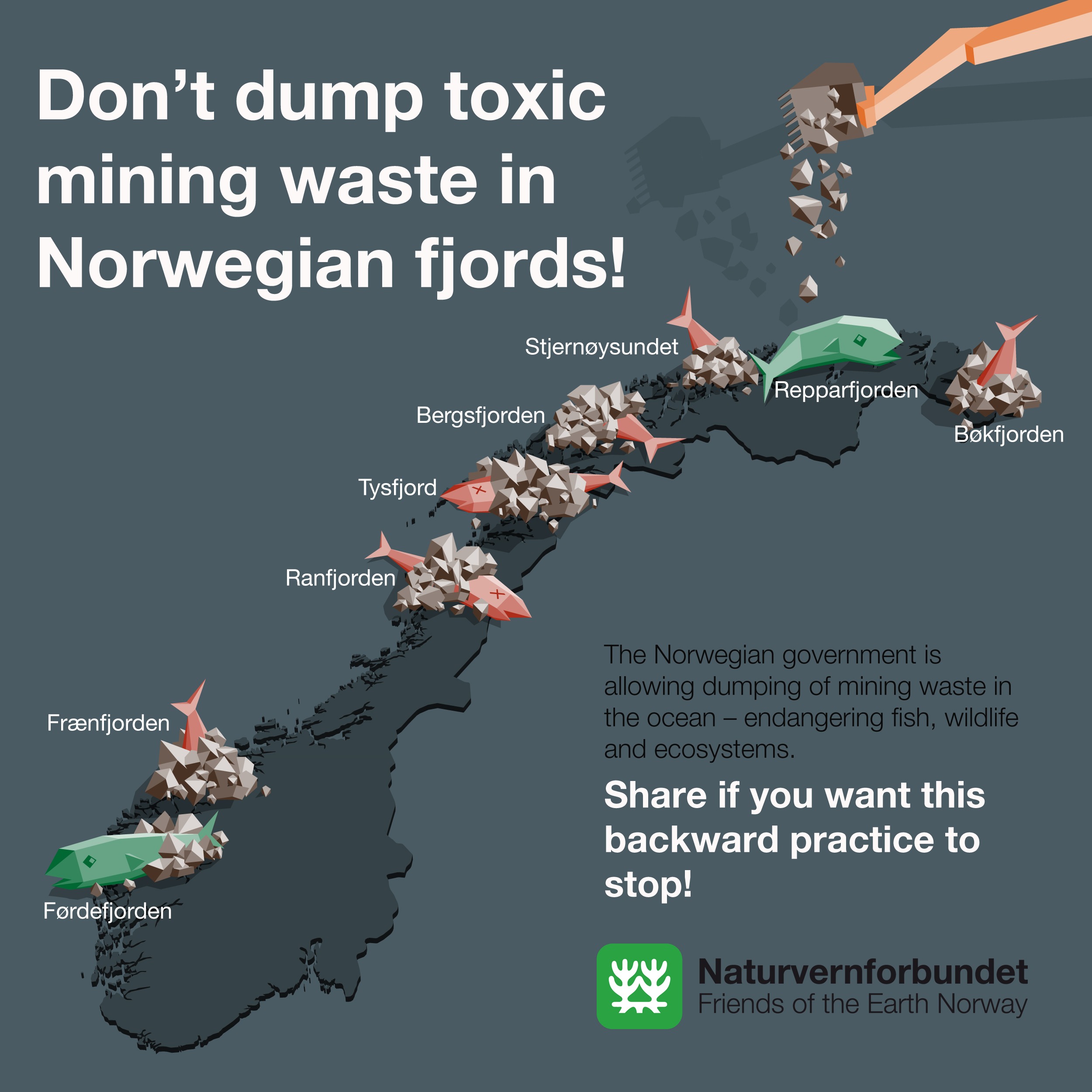 Related Content
08/12/15