German environmental group BUND Naturschutz (BN) recently celebrated the 100th anniversary of their formation.
Friends of the Earth Bavaria/BUND Naturschutz marked a century of environmental protection with a special evening attended by over 1000 guests in Munich. The event recognised the enduring commitment of BUND volunteers and activists in defence of the Bavarian environment.
Guests included the Bavarian Environment Minister Dr. Marcel Huber who commended the organisation on its tireless work protecting flora, fauna and entire ecosystems throughout the state.
Bavarian Prime Minister Horst Seehofer also stated, "The many thousand activists in BUND, among them many in voluntary service, are a large stroke of luck for our environment and for our Bavarian home. During the last 100 years, BUND has achieved great things for nature and biodiversity."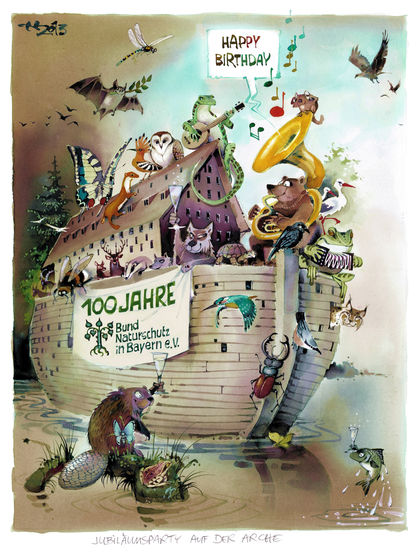 The group was formed in 1913 and has grown to be the biggest environmental organisation in Bavaria with approximately 195,000 members and 600 local groups. It is also Bavaria's oldest environmental organisation and was the genesis of the federal BUND group (Friends of the Earth Germany) which formed in 1975.
Some of the significant campaign work highlighted in the celebrations included the prevention of three nuclear plants which were destined for the area, saving the Weltenburger Enge and Murnauer Moos areas from development and playing their part in the national 'Energiewende' (energy shift).
The organisation also runs a wide range of environmental education for adults, children and young people to encourage new generations of ecologically conscious citizens. Its work is wholly funded by the generous support of its donors and members as they refuse to take finance from companies or political parties.
Friends of the Earth Europe director Magda Stoczkiewicz said, "I wholeheartedly congratulate BUND Naturschutz for its 100th anniversary. It is an amazing achievement to run nature protection and environmental work for 100 years as the Bavarian branch of BUND has been doing. It is truly a privilege for all of us in Friends of the Earth Europe to work with groups and branches with such a long-lasting history of environmental dedication."
Related Content
15/07/13