Exxon-Mobil's tactics of deliberately spreading false information on climate change have been exposed today in a public hearing in the European Parliament.
But the company's refusal to attend the hearing has led a growing number of Members of the European Parliament to back calls to strip Exxon-Mobil lobbyists of their parliamentary access badges.
Myriam Douo, transparency campaigner for Friends of the Earth Europe said:
"Exxon has promoted climate denialism and misinformation for decades to undermine action on climate change, despite privately knowing the damage their oil exploitation was doing.

"Its business model relies on trashing our future, and it must be stopped from capturing our democratic institutions like the European Parliament.

"To have a chance to fix climate breakdown, Europe must go fossil free within a decade – there is simply no space for fossil fuel companies to keep calling the shots."
The first hearing on corporate climate change denial at the EU level saw experts give testimony on the history and political impact of the issue, as well as the role Exxon-Mobil has played in misleading policy-makers and the public.
"I have only shown you the tip of the iceberg, Exxon-Mobil is one cog in a well-funded, well-oiled denial machine," MIT/Harvard climate science historian Dr. Geoffrey Supran told Parliamentarians.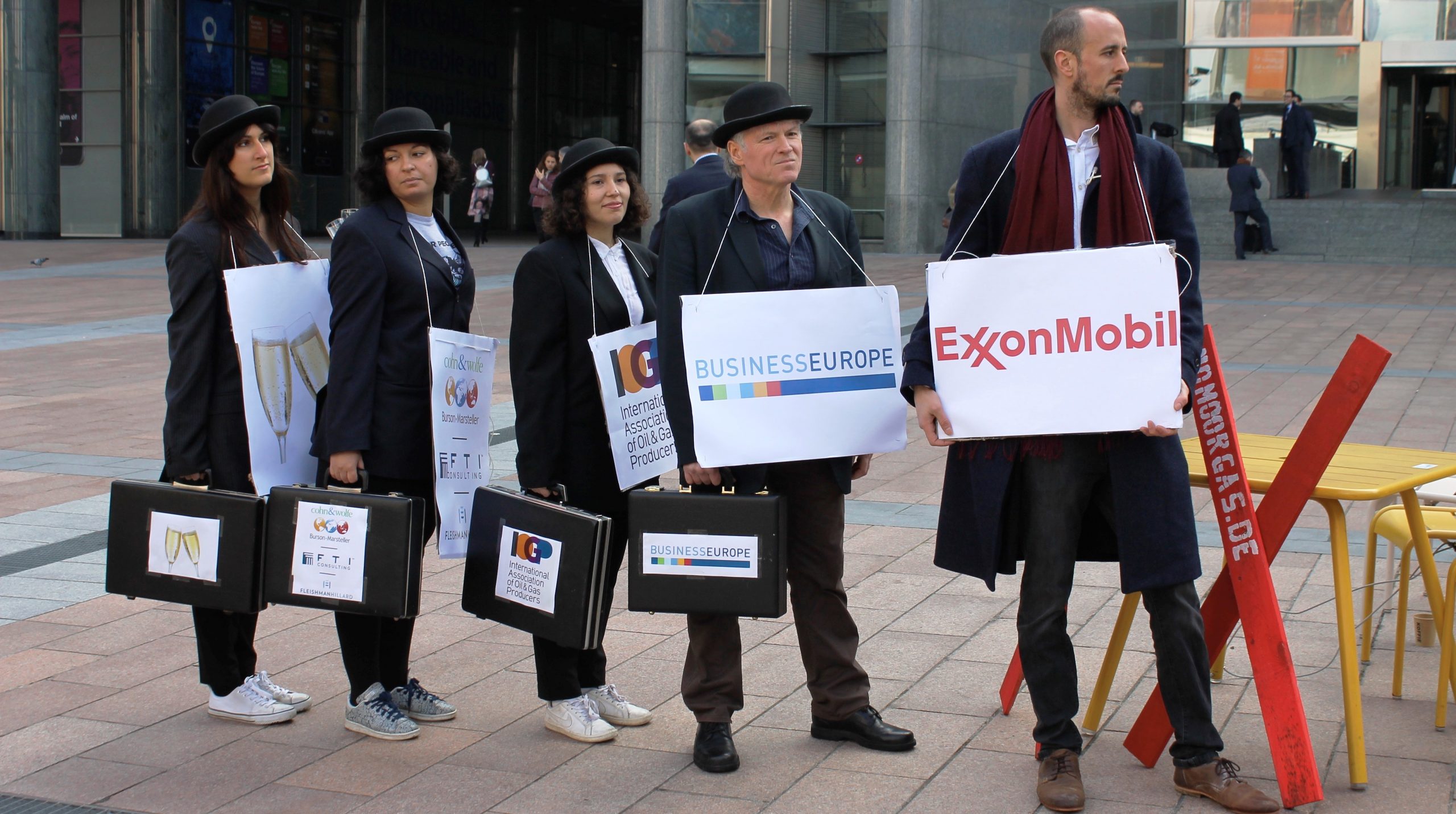 Exxon misses hearing in Parliament
But the company's absence at the hearing could have unpleasant consequences for its lobbyists. Exxon-Mobil may be directly reprimanded by MEPs, similar to when Monsanto refused to follow a parliamentary summons for a hearing: a set of rules established in 2017 makes it possible to revoke the parliament access badges of any company ignoring a summons.
We are joining @FoodWaterEurope @foodandwater @corporateeurope @GreenpeaceEU @350Europe and @ALTEREU to demand our institutions to be freed from Exxon's influence. There's no room for climate deniers in Europe. Let's kick Exxon out of our climate policy! #ExxonKnewEU pic.twitter.com/id9DAR05SQ

— Friends of the Earth (@foeeurope) March 21, 2019
Considering that Exxon-Mobil has spent over €35 million since 2010 to lobby the EU to protect its lucrative business interests, taking away the EU Parliament's accreditation of the corporation's in-house lobbyists would be a first step to free EU climate policy from the decades-long stranglehold of the fossil fuel industry, and send a strong signal to other companies.
Frida Kieninger of Food & Water Europe, and official parliamentary petitioner:
"Parliamentarians at today's hearing learned just how dangerous and omnipresent deliberate misinformation about the grave climate impact of fossil fuels really is.

"We still have a small window of opportunity to stop absolute climate chaos, so it is only logical to start by shutting out any corporation misleading policy-makers and the public. The urgent calls to block Exxon's access to the European Parliament must not fall on deaf ears."
"People see lobbying as a corrupt form of governance, and they are right… We are writing this afternoon to ask that Exxon's lobby badges be removed" @MollyMEP #ExxonKnewEU #PollutersOut pic.twitter.com/x2XpEIIHnS

— Food & Water Europe (@FoodWaterEurope) March 21, 2019
Pascoe Sabido, Corporate Europe Observatory:
"Exxon-Mobil's well-funded EU lobbying shows that the company has moved from denying climate change to delaying and weakening climate action. But looking at the havoc global warming is already wreaking in many parts of the world, the impact is equally devastating.

"The EU Parliament must show Exxon and the rest of the fossil fuel industry the door, no matter how deep their pockets. Millions of young people are taking to the streets to demand determined climate action, but do MEPs accept the challenge?
More and more MEPs are demanding Exxon-Mobil be stripped of its lobby badges. Ahead of the next meetings of the EU Parliament's Conference of Presidents, where such decisions are made, Food & Water Europe and Corporate Europe Observatory, Friends of the Earth, and Greenpeace are working to raise more awareness of the necessity to keep fossil fuel corporations as far away from climate and energy policy-making as possible – especially ones as unrepentant as Exxon-Mobil.
NEW RESEARCH: @ExxonMobil spent >€35m since 2010 on lobbying to weaken + delay EU climate action.

This bought them:

A web of lobby groups
An army of lobbyists
Privileged access to EU decision-makers#ExxonKnewEU#ExxonKnew#PollutersOuthttps://t.co/bmuM2YkKu3 pic.twitter.com/WCPNvIN5Cz

— Pascoe Sabido (@pascoesabido) March 19, 2019
Related Content
21/03/19