A fortnight to celebrate community power continues this week in the UK, with the aim of informing and inspiring people about the benefits of community power generation. The organiser, Community Energy Coalition, includes Friends of the Earth Scotland and a range of other civil society groups who aim to promote and facilitate communities across the UK owning, generating, and saving energy together.
The fortnight includes a range of events, workshops and showcases to enable people to explore the benefits of, and practical steps needed to help them to take, collective action.
Anne Schiffer, Energy Campaigner, for Friends of the Earth Scotland said: "Community power has enormous potential and brings a wealth of benefits. In addition to reducing our climate change impact, it supports the local economy and keeps the profits generated within the community. Neilston Community Wind Farm (pictured), for example, is expected to raise millions of euros to be spent for the benefit of the local community."
Friends of the Earth Germany are also promoting an energy revolution that will put power generation back into the hands of citizens. The German Energy Transition ('Energiewende') intends to encourage the phase-out of nuclear and fossil fuels and to support the development of renewables. Friends of the Earth Germany have identified the 'old' energy companies as attempting to slow or block this necessary change to decentralised, community-owned, climate-friendly power generation. The big four energy companies only produce 6.5% of the country's renewable electricity whereas 40% comes from small-scale producers.
In response to energy companies' sluggishness they have produced an energy transition charter which calls on citizens to support 100% renewable generation as rapidly as possible and the prioritisation of a decentralised energy supply where the profits and costs are distributed fairly amongst communities. Citizens are being asked to sign up to the charter, to contact candidates in the upcoming federal elections to ask them to pledge their support and to encourage citizens to create images demonstrating their own energy transition projects.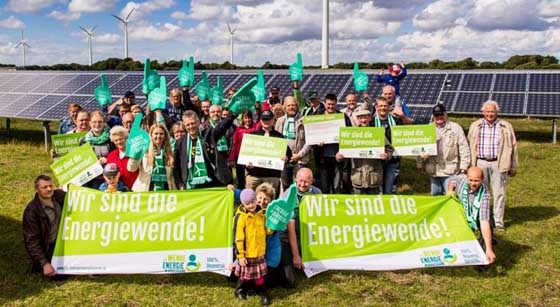 Susann Scherbarth, climate justice and energy campaigner for Friends of the Earth Europe said: "Our European community power initiative will facilitate the evolution from centralised, harmful fossil fuels to locally-owned and -situated power generation, and energy efficiency measures – which will strengthen communities, provide jobs and combat climate change."
A recent audacious bid by a community co-operative from Berlin to purchase the entire city's electrical grid has received widespread support and media attention, and demonstrates the growing power and capacity of communities to regain control of their power generation.
Related Content
03/09/13