Shell is one of the largest polluters in the world. It emits twice as much CO2 as the entire Netherlands put together. If we want to prevent the earth from warming up by more than 1.5 degrees, companies like Shell will have to change. Unfortunately, that does not happen easily. That is why Friends of the Earth Netherlands has initiated a lawsuit. In December 2020 they're facing Shell in court for the first time.
Shell is a commercial company that earns its money simply by meeting a demand, notes Shell CEO Ben van Beurden. Unfortunately, that's not the whole story. Shell is actively working to ensure that the demand for oil and gas remains high and the demand for alternatives low. Here's 6 ways Shell does this:
1. Shell teaches children that we won't be able to live without oil and gas for a long time to come
Fossil energy companies, including Shell, create their own teaching materials for schools in which they explain how the energy transition is going to take a very long time. In their eyes, gas is part of the solution to the climate crisis and we're going to remain dependent on oil and gas for a long time to come.
The fact that fossil fuel use must come to an end is never mentioned in any of Shell's teaching materials. During Generation Discover, a festival organised by Shell (and subsidised by the Municipality of The Hague!), they used a jigsaw puzzle to try to convince children that the energy mix in 2050 will still consist of at least 70% oil, coal and gas. Shell also has strong ties to various universities.
2. Shell uses its influence to oppose climate policy
Shell often leaves the initiative to governments when it comes to drafting regulations. But meanwhile, behind the scenes, Shell and industry organisations which the company is affiliated with are doing everything they can to opposeor weaken climate policies. Here, for example, are a few of the European Commission proposals that Shell opposes:
A proposal to reduce the emissions of transport fuels
Efficiency requirements for refineries
Limiting gas-flaring emissions
EU-wide, non-sector-specific emission reductions
Country-specific (post-2020) EU targets for the growth of sustainable energy and increased energy efficiency.
At the same time, Shell has, along with other oil companies, lobbied heavily to designate natural gas as the fuel of the future. As a result, Shell is among the top 5 most influential oil and gas companies lobbying against climate policies.
3. Shell continues to invest in new oil and gas infrastructure
By continuing to invest in new oil and gas infrastructure, Shell is working to keep us addicted to oil and gas for a long time to come. After all, the lifespan of oil and gas infrastructure is often more than 30 years, so the new infrastructures that Shell is building (often with substantial subsidies) will therefore have to be used for a long time to recoup the invested money. Shell readily admits that its increased investments in fossil fuel infrastructures make it increasingly costly to rapidly switch to sustainable initiatives. And yet, 95% of the company's investments continue to go to oil and gas.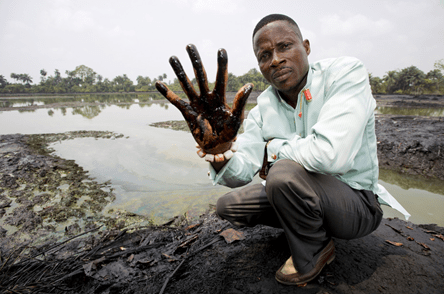 4. Shell markets its non-sustainable oil and gas as sustainable
Shell has been reprimanded on numerous occasions for misleading advertising. In 2008, the UK advertising code committee rebuked Shell for a misleading advertisement that appeared in the Financial Times, in which Shell suggests that investing in tar sand oil ensures a sustainable future and helps combat climate change. A year earlier, Shell had been in trouble with both the English and Dutch advertising code committees for misleading environmental claims about the reuse of CO2.
In 2011, they received a reprimand for a misleading advertisement in which Shell claims that natural gas was clean. The company was furious when a former Shell PR manager pointed out in an article in the Vrij Nederland that Shell's advertising policy had been referred to as 'a parade of lies and half-truths' by various objective analysts.
And Shell fails to learn its lessons: in 2017, Maarten Wetselaar, the head of Shell's global gas and renewable energy branch, reiterated that the fossil fuel industry must convince everyone that gas is considered part of the solution to climate issues and not part of the problem.
5. Shell influences the demand for oil and gas with its own misleading predictions
Shell makes its investments based on scenarios that assume very high levels of growth in the demand for oil and gas – much greater than other organisations tend to forecast. Shell's own scenario for the future also assumes that we'll be able to eliminate CO2 from the air on a large scale using largely unproven technologies. On top of that, Shell exerts an influence on the scenarios created by the International Energy Agency. Shell certainly didn't pay the two authors of the most recent International Energy Agency's World Energy Outlook without expecting something favourable in return.
6. Shell continues to lobby for subsidies and tax breaks for oil and gas
By lobbying for fossil fuel subsidies and tax breaks, Shell ensures that it'll be able to invest tax money and benefits to profit even more from its investments in oil and gas. The state aid that Shell receives goes so far that the company paid no net taxes in Germany in 2017, and actually received a tax refund! Dutch government support for fossil fuels accounts for approximately approximately €7.6 billion in handouts annually.
Moreover, Shell does not even bear the costs of climate change and environmental pollution. That's why oil and gas seem inexpensive. But a large portion of the bill – for the environment, health and climate expenses – ends up with the taxpayer.
Help us win this groundbreaking court case of the century
Friends of the Earth Netherlands initiated a climate lawsuit against Shell. We want the judge to force Shell to bring its business plans in line with the Paris Climate Agreement. Would you like to help us make a big deal out of this? Then share this article and follow the campaign to #StopShell on Twitter @milieudefensie and @FoEInt.
Related Content
08/12/20